La Posada Hotel & Beach Club
Welcome to Our Beachfront Hotel in La Paz, Mexico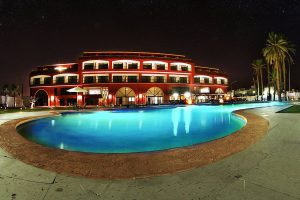 A beachfront hotel in La Paz, Baja, Mexico, La Posada Hotel & Beach Club is the modern version of the mythical Hotel La Posada de Engelbert. In a building of Californian architecture, La Posada offers its boutique hotel services, 100% focused on the details to make your stay in the state's capital a truly exclusive experience.
Suites with Bay View
In La Posada Hotel you'll enjoy 24 cozy suites where the breathtaking view is just the beginning. These are comfortable retreats with terrace, Jacuzzi, LED TV with cable channels, minibar and living area, among many other services and amenities.
Mexican Gastronomy and Something Else…
Taste delicious Mexican and Mediterranean cuisine, from the simplest dish to the most sophisticated and exuberant preparation at La Posada Hotel & Beach Club's El Barco Restaurant Bar.
RESTAURANT DINNERS AND LUNCH TICKETS:
from 140.00 mxn to 180.00 mxn
SALADS
from 150.00mxn to $ 260.00 mxn
RICE AND PASTAS
from 180.00mxn to $ 240.00 mxn
MAIN DISHES
from 180.00 mxn to $ 450.00 mxn
DESSERTS
from $ 90.00 mxn to 120.00 mxn
BREAKFAST INCLUDED IS OUR AMERICAN TYPE RATES
-COFFEE OR TEA
– ORANGE JUICE OR SMALL FRUIT PLATE
–Main dish (red or Green chilaquiles, OMELLETS OF THE HOUSE, EGGS TO THE TASTE, MOLLETES, HOTCAKE.
Spa & Beauty Salon
Large pool, treatment room, hairdresser, massage cabin, sauna, are some of the facilities you can enjoy.
Relaxing massage 50 minutes $ 600.00 mxn
Deep massage $ 600.00 mxn
Sports Massage $ 700.00 mxn
Pedicure $ 350.00
Manicure $ 250.00
Relaxing facial $ 600.00 mxn
DAY PASS $400.00 mxn adults and $250.00 mxn children USE OF POOL, SAUNA, JACUZZI
Gym
Equipped with the best machines on the market so you do not abandon your usual routine while you visit us.
Concierge Service
Get the information you need about places of interest near La Posada Hotel, attractions and activities and book tours to the Espiritu Santo Island, Balandra Beach and more.
La Posada Hotel & Beach Club Facilities & Services:
– Restaurant & Bar
– 2 Swimming pools
– Beach
– Spa and beauty salon (Use for free instalations massages 10 desc for guests)
– Babysitting (With previous reservation)
– Event spaces
– Events garden
– Bilingual staff
– Concierge (Support for car rental, tour sale, personal attention)
– Airport shuttle (upon reservation)
– Concierge (Support for car rental, tour sale, personal attention)
– Hotel pet friendly
– Nautical activities (Kayak, paddle board in bahia and boat rides to the island-Balandra-San Rafaelito watching of sea lions)